Ever run into a situation where you're using Dragon, and for some reason, it won't type into one box or field in the program (like the address bar in a browser – sometimes Dragon works fine, sometimes it won't type there)? Well, we've got a trick for that, where you can create a custom voice command that will type out your text. This trick may not work in every possible place, but because commands interact differently with the target program than text does, it will work in many situations.
The key here is that – with Dragon Professional Individual and Dragon Professional Group – you can create advanced scripting commands, which can include typing out whatever text you want.
In Dragon, go to the MyCommands Editor, and create a new command. You'll want to make it a Text and Graphics command like below.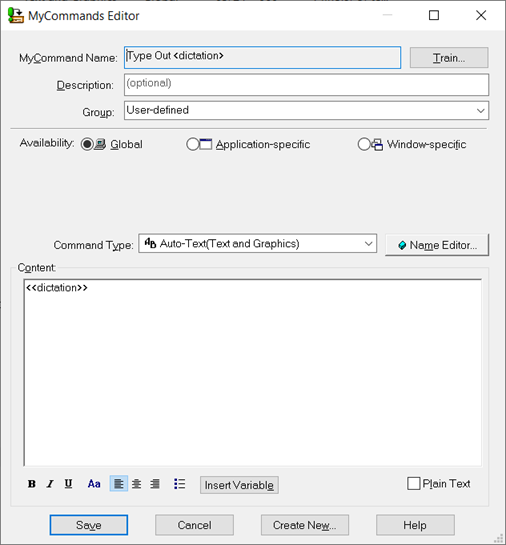 Once you save the command, you can use it at any time. Simply point your cursor to your desired text field or output area and say "Type Out <whatever you want>". Dragon will then type everything you say after "Type Out".

Try it out, and let us know how it works for you!

If you need assistance, we can teach you how or help customize commands for your particular needs. Check out our training packages, purchase custom training, and contact us to learn more.