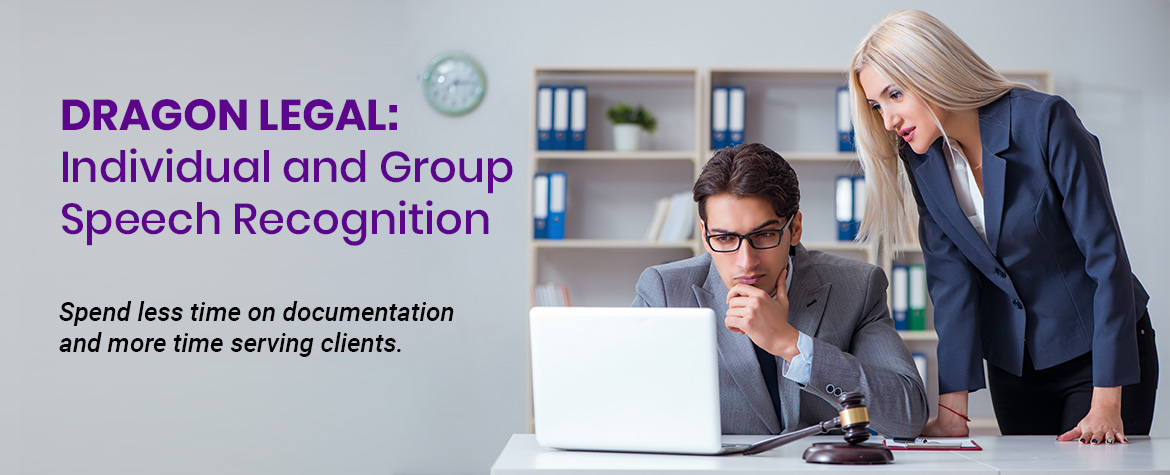 Streamline legal documentation and
improve client service and costs
Speed legal documentation turnaround times, eliminate transcription bottlenecks, and free support staff to focus on high-value, billable tasks with Dragon Legal speech recognition for legal professionals.
Designed specifically for legal professionals, Dragon Legal speech recognition solutions are trained using more than 400 million words from legal documents to deliver optimal recognition accuracy for dictation of legal terms right from the start. It captures specific legal terminology quickly and accurately to minimize the need for edits.
Ready to take documentation to the next level?
---
Get legal documents done anytime, anywhere
Keep up with documentation even when in court or visiting clients. Dragon works with popular form factors such as portable touchscreen PCs, and it syncs with Dragon Anywhere*, the separate, cloud-based mobile dictation solution, letting you create and edit documents of any length by voice directly on your iOS or Android device for seamless productivity no matter where your job takes you.
Speak as long as you want to complete documents of any length
Easily create form-based templates and fill out forms, such as client in-take forms—from anywhere
Import and export to and from popular cloud-based document-sharing tools like Dropbox® and note-taking apps like Evernote®
Sync with Dragon Legal software and complete work started on the road back at your desktop for seamless document workflows
*Subscription is required for Dragon Anywhere
---
Create and manage legal documentation with ease
Enjoy accurate recognition of legal terms:
Dragon Legal speech recognition's specialized legal vocabulary means professionals can dictate contracts, briefs, or format legal citations and other legal documentation, 3 times faster than typing, with up to 99% accuracy right from the first use.
Leverage Nuance Deep Learning technology:
With a next-generation speech engine powered by Nuance Deep Learning technology, Dragon achieves high recognition accuracy while dictating, even for users with accents or those working in open office or mobile environments; making it ideal for diverse work groups and settings.
Enhance productivity for mobile employees:
Enable legal professionals to complete documentation out of the office, while visiting clients, or on their way to court. Use Dragon on popular touchscreen PCs, or sync with Dragon Anywhere Group, Nuance's cloud-based, professional-grade mobile dictation solution, and improve mobile documentation productivity.
Eliminate or reduce transcription time and costs:
Reduce dependencies on outsourced transcription services, or reallocate support staff to more high-value tasks. Using Dragon, transcribe recorded notes or voice files of another single speaker into text quickly and easily, or use the Auto Transcribe Folder Agent (ATFA) to transcribe batch files of audio recordings.
Automate repetitive workflows and improve efficiency:
Create custom voice commands to insert standard clauses into documents. Or create time-saving macros to automate multi-step workflows by voice (available in both versions). Once created, share customizations across the user community for efficiency gains (Dragon Legal Group only).
Centrally manage for significant costs savings:
The Nuance Management Center makes it easy to track employee usage of Dragon, redistribute licenses based on usage, and manage or share customizations, including custom words, commands and auto-texts, across multiple users. (Dragon Legal Group only)
---
Which Dragon Legal version is right for me?
Dragon Legal speech recognition solutions are offered in Group and Individual versions.
Both versions enable legal professionals to:
Produce documentation and enter data 3 times faster than typing
Have access to a specialized legal vocabulary for greater recognition of legal terms
Dictate, edit and control within your desktop applications by voice
Enjoy fully voice-driven editing and command capabilities in many web applications when using supported browsers
Use the Dragon Anywhere mobile dictation solution to be productive while on-the-go
Eliminate or reduce transcription time and costs
---
Key differences include:
Dragon Legal Individual
Dragon Legal Individual is a locally-installed speech recognition solution meant for individual legal professionals
Does not support centralized management
Does not support roaming profiles and can only be accessed on the PC where the software is installed
Does not support Citrix or remote desktop environments
Dragon Legal Group
Dragon Legal Group is an enterprise-ready speech recognition solution for law firms or legal departments
Allows centralized management (track employee usage, redistribute licenses, and manage or share customizations) via the Nuance Management Center
Supports roaming profiles, allowing users to access the software on multiple machines
Supports Citrix and remote desktop enviroments
---
ZephyrTec's "Make my Dragon do more"
training, guides & macros
New to Dragon speech recognition, or perhaps your organization has new Dragon users that could use some help? Want to be more productive and learn how to navigate your applications and better use Office with your voice?
Tame the Dragon, and learn ways to make your speech recognition system more efficient and effective than ever before with ZephyrTec's one-on-one tailored training classes, proprietary Learning Guides and customized macros!
---
Resources
Download the Dragon Legal speech recognition resources, and contact us today to learn more:
---
Let ZephyrTec help YOU harness the Power of Speech!™