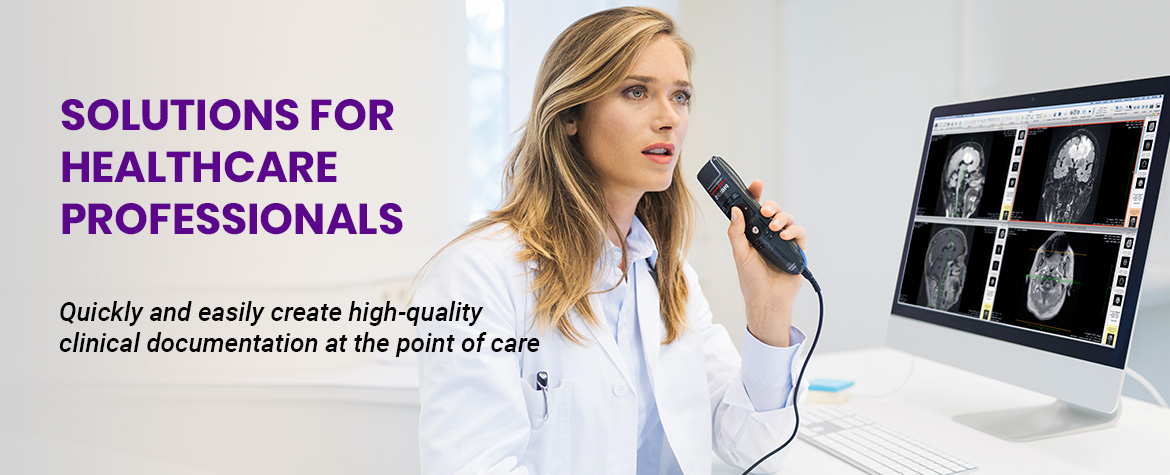 Streamline clinical documentation, drive physician productivity
and improve patient care
Securely capture the patient story more naturally and efficiently to speed productivity, support thorough documentation and ease EHR usability.
Increased regulations and administrative responsibilities have caused clinicians to focus less on the patient and more on paperwork. Medical documentation is crucial, but it doesn't have to be a chore. ZephyrTec's speech productivity and medical documentation solutions enable physicians to use their voice to quickly and thoroughly document patient encounters and other reports.
ZephyrTec has partnered with industry leaders, Nuance (makers of Dragon speech recognition) and Philips (dictation workflow and voice recording hardware experts) to provide award-winning clinical documentation solutions that are continuously evolving to best meet the changing needs of providers and patients. ZephyrTec offers mobile, web-based and PC-based digital dictation, speech recognition and clinical documentation workflow management solutions that help clinicians produce documentation faster and more accurately, while protecting the security of sensitive patient information.
Benefits include:
Faster and more efficient data entry and streamline clinical documentation processes
Reduce document turnaround time and improve patient care
Achieve 99% accuracy with no voice profile training required, with Dragon Medical speech recognition
Speeds creation of high quality documentation in the EHR, accelerating adoption and allowing for more time with more patients
Eliminate or reduce hours of administrative work and transcription bottlenecks
Reduce costs and improve clinician and support staff productivity
Mobilize your workforce and leverage existing hardware investments
Support HIPAA requirements for patient security and confidentiality
Enable success from the start with professional speech recognition training, support and services
---
"Our EMR gave us great templates to work with, which has made medical billing more effective. But from a provider perspective, we needed more information. That's where Dragon Medical speech recognition came in; we can now include narratives that help establish the proper care and treatment of all our patients, what they need, their complaints, their injuries, and any reasoning and logic behind treatment decisions."
Lorrie Byers, Clinic Director, Arrowhead Orthopaedics
---
---
ZephyrTec's healthcare solutions
ZephyrTec's speech productivity solutions enable physicians and other healthcare professionals to organize their time more efficiently, and to work in more flexible and productive ways – whether they work in a hospital, clinic, office, at home or on the road. Clinicians can use their voice to securely capture the patient story more naturally and efficiently, and on their own terms.
---
California cardiologist improves clinical documentation processes
with the help of ZephyrTec and Dragon Medical One speech recognition
With the help of real-time documentation, a California cardiologist achieves efficiency, transparency, and quality patient care.
Mariusz Wysoczanski, MD, a quintuple board-certified cardiologist, delivers excellent and compassionate care to 25-30 patients a day while serving as medical director of heart failure at Sharp Chula Vista Medical Center in Southern California. The corresponding documentation responsibilities meant long workdays spent typing in the EHR. When transcription proved to be pricey and incurred delays, he turned to speech recognition. With AI-powered Dragon Medical One, he quickly creates documentation that informs both patient care and referring physicians immediately and completely.
"Documentation efficiency is critical when you have a large patient workload," says Dr. Wysoczanski. "I need to make the best use of my time." When he tried Dragon Medical One, he was immediately impressed with the superior performance of the cloud-based solution versus legacy versions, noting significant accuracy improvements.
Download the case study to learn more!
---
ZephyrTec's "Make my Dragon do more"
training, guides & macros
New to Dragon speech recognition, or perhaps your organization has new Dragon users that could use some help? Want to be more productive and learn how to navigate your EHR and better use Office and Internet applications with your voice?
Tame the Dragon, and learn ways to make your speech recognition system more efficient and effective than ever before with ZephyrTec's one-on-one tailored training classes, proprietary Learning Guides and customized macros!
---
Let ZephyrTec help YOU harness the Power of Speech!™
ZephyrTec is a Nuance Certified Dragon Medical Premier Partner. Since 1993, ZephyrTec has been, and remains, the industry leader in the deployment of speech recognition and workflow solutions to drive maximum efficiency in the creation of clinical documentation. With a broad range of industry-leading options for medical speech technology to meet the individual needs of any user – from desktop dictation to the latest cloud-based speech technology – our solutions let us help YOU Harness the Power of Speech!™